Sandrine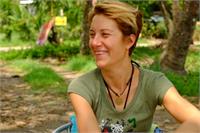 I started studying more in depth massage and healing modalities in 2000 and soon after discovered and fell in love with yoga! Since then I have added to my first Swedish massage course many techniques learned in different parts of the world and London which has been my main base for many years...Body work and yoga have taken me on a journey that has helped me address many aspects of my life, heal some physical ailments, grow, evolve and it is always for me a pleasure to work with people, helping them reconnect to their true essence or simply feel better in their daily life.
I combine deep tissue techniques with abdominal work, Indian Head Massage or even Thai Yoga Streches depending on what is needed.
Sandrine instructs the following:
Yoga and aromatherapy are holistic and ancient practices, both offering physical, mental and spiritual benefits for the practitioner. The use of aromatherapy blends while practicing yoga can enhance the practitioner's experience and benefits from both therapeutic areas.

Not only are the senses enthralled by the beautiful aromas during your practice, but the focus and effects of your practice are intensified by the use of carefully chosen essential oil blends. These wonderful oil blends can aid you physically, spiritually & mentally.




This is a profound vinyasa asana class which can move your practice on. It is a steady, flowing, sequence of postures, with particular emphasis on alignment of body, quality of breath and focus of mind. An hour of postures, is followed by 10 minutes relaxation, then 15 minutes of pranayama (breath work) and meditation to still the mind. You are encouraged to find your own balance as you are led through your practice.