Vena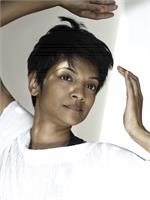 Vena Ramphal is an internationally renowned dancer and wellbeing mentor. She has performed for royalty, prime ministers and celebrities. As a yogini, classical Indian dancer and Sanskrit scholar she brings unusual depth of knowledge to her chakra meditation classes. Born and brought up in the yogic tradition she learnt Vedic mantras alongside her 'a b c'. She was initiated into meditation aged 10, and later into Kriya Yoga. Her own practise combines yoga, meditation and dance in an exquisite whole-self experience.
Vena instructs the following:
This gentle guided meditation is a treat for busy minds and bodies. Using an integral method of comfortable posture, soft breathing, gentle movement and uplifting relaxation. Come and let the week's stress wash away. Replenish your energy and restore yourself.