Mark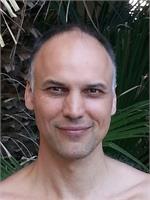 I have been practicing Yoga and Meditation for 20 years and teaching full time for 15 years.
I like to engourage students to find their own balance as I lead
them through a steady, flowing sequence of postures, followed by a deep relaxation, pranayama (breath work) and meditation.
I first trained in Sivananda yoga,
then Iyengar and Ashtanga yoga and most recently Parayoga with
Rod Stryker.
Mark instructs the following:
This is a profound vinyasa asana class which can move your practice on. It is a steady, flowing, sequence of postures, with particular emphasis on alignment of body, quality of breath and focus of mind. An hour of postures, is followed by 10 minutes relaxation, then 15 minutes of pranayama (breath work) and meditation to still the mind. You are encouraged to find your own balance as you are led through your practice.