Tim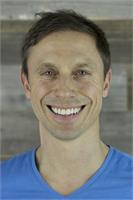 I am an accomplished yogi, personal trainer, fitness consultant and master trainer for the chi ball method.
My personal style is to work closely with individuals to encourage exploration of flexibility and release.
Drawing on my extensive knowledge, I use yoga postures (asanas) and breath work (pranayama) to open the body's structure, dissolving deeply held tensions and stress, promoting and grounding the natural energy of the body and encouraging a deep sense of relaxation and well being.
I strongly believes that the practise of yoga will enhance the life and well being of all.
Tim instructs the following:
Vinyasa means a gradual progression or a step-by-step approach that systematically and appropriately takes a student from one point and safely lands them at the next point. It is sometimes described as the "breathing system," or the union of breath and movement that make up the steps.

The word vinyasa has been popularized and is now used in many yoga classes to describe the connection of one pose to the next, as in the Sun Salutation that you described. It is now a commonly used "shorthand" in many flow classes.




Yin yoga is a slow-paced style of yoga with poses, or asanas, that are held for longer periods of time—five minutes or more per pose is typical, as this gives time for the stretch response to be activated. Yin yoga poses apply moderate stress to the connective tissues of the body—the tendons, fascia, and ligaments—with the aim of increasing circulation in the joints and improving flexibility. A more meditative approach to yoga, yin aims at cultivating awareness of inner silence, and bringing to light a universal, interconnecting quality. A great class to be taken following a vinyasa class, or also good on its own, and ideal for all students including beginners and, especially good for those wanting to increase their flexibility.